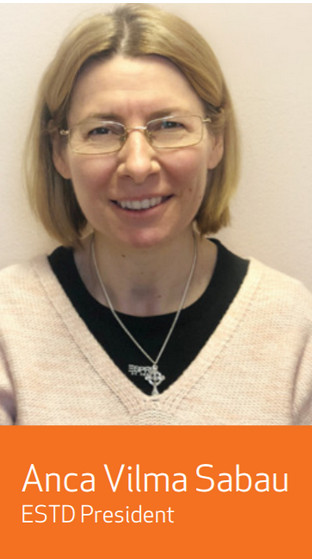 I hope this letter finds you well. 
Autumn brought almost every European country the second wave of the Pandemic. We are living through this special time and hope to thrive. Meanwhile I am writing, as President, my last column for the newsletter and I want to thank you all for your support during the past years. Time is running fast and we spent two challenging years together with good but also with difficult moments. 2019 was the year that marked the ESTD Conference from Rome. We all have nice memories from that time, interesting and high quality presentations and encounters with old and new friends and colleagues. Our community grows with almost 100 new members, reaching around 600 active members, with a very strong national Italian and British group and a fast growing Polish ESTD community, which is encouraging and makes our efforts more purposeful. We are in a stable financial position and in very good collaboration with our colleagues from ISSTD and EMDR Europe, which is a normal and fruitful process as many of us are also members of these organizations. Finally, after many years of hard work from Raphael Gazon and our new assistant Barbara, the website is fully functional and flexible. We encourage you to take a visit at www.estd.org where you will find new educational videos, articles, interviews, Guidelines and direct access to EJTD (European Journal for Trauma and Dissociation). The safety of our members is a priority for the Board so we are taking steps to produce guidance about internet security aspects. Different aspects in relation to this issue are going addressed monthly and updated by our assistant. From this year the mentors program is functional so those who need more information in this regard can email our Board colleague Paola Boldrini.
The new realities moved our work toward an online space so future plans include organization of workshops and small conferences. We took the first step this year in September in Poland where our colleagues Igor Pietkiewicz and Radek Tomalsky hosted the first online Regional ESTD Conference very successfully. We thank our colleague, Prof Andrew Moskowitz, for his outstanding efforts in the field of trauma and dissociation and for the wise guidance he offered us during this long period on the Board. In January 2021,
he will leave the Board and step into the circle of Past Presidents and we will certainly miss his input in our Board meetings.
Towards the end of this year our colleague Raphael Gazon, a very skilled trainer and clinician from Belgium, will be the ESTD President and our colleague Igor Pietkiewicz will take the position of President Elect, specifically being in charge of the membership committee. The Board is functioning as a compact being so things will continue and develop physiologically.
I express my deepest respect for all of the members of this Society and I wish you all to be well in all aspects!
Kind regards,
Anca Vilma Sabau, MD
President, ESTD