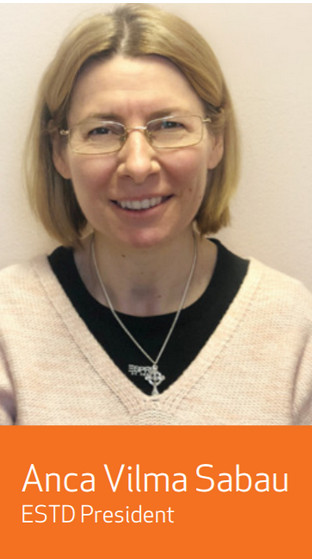 Dear  ESTD members,
Summer holidays are over and I hope all your batteries are recharged. In many countries September and October are a time for training programmes, workshops and conferences. Our Biennial ESTD Conference looks promising with an exciting list of researchers and skilled clinicians from all over the world with intriguing presentations, ranging from assessment and diagnosis to treatment methods and research presentations. You can still register for the different levels of participation available: complete conference, pre-conference workshops, or just for a single day. You are also invited to the terrace of the Hotel Forum (offering a magnificent view of the Roman Forum) to mingle with colleagues from places far and close in a pleasant and relaxing atmosphere.
The single most important development in the past few months has been the online launching of the mentoring program.  You can access this on the this link http://estd.org/estd-mentors There are still details to be finalised before we start running the program. The first online module on treatment developed by Dr Anabel Gonzalez will also be available soon for clinical use.
As I am writing, the election of the new Board is still in progress. As soon as the results are known official notifications will be sent out.
Generally, the health system and social programs in East and Central European countries are still in need of major overhaul. In Romania, for example, even thirty years after the Revolution, the health system remains archaic and dysfunctional – largely unresponsive to the population's health care needs. There is little appropriate response to the consequences of trauma. The need for change is urgent, especially in the development and implementation of preventative programs, trauma assessment, and appropriate, evidence-based contemporary treatment regimes. All the more so, because trauma and dissociation are common problems in this part of the world. We, Romanian clinicians and academics, are thankful for what ESTD trainers (Drs Suzette Boon, Eli Somer, Ellen Jepsen, Anabel Gonzalez, Anna Gerge, Renee P. Marks, Bruce Perry) have contributed over the past years in training and supporting us to be able to make a difference to our patients at the grass-roots.
Similar work is done in other countries in our region, notably in Poland and in Hungary. It is our ardent hope that the ESTD will grow and become more capable at a European level in offering coherent programs for teaching in trauma and dissociation. Our numbers are growing and so is our desire to best fulfil the needs of our members.
With best wishes,
Anca Vilma Sabau, MD
President, ESTD